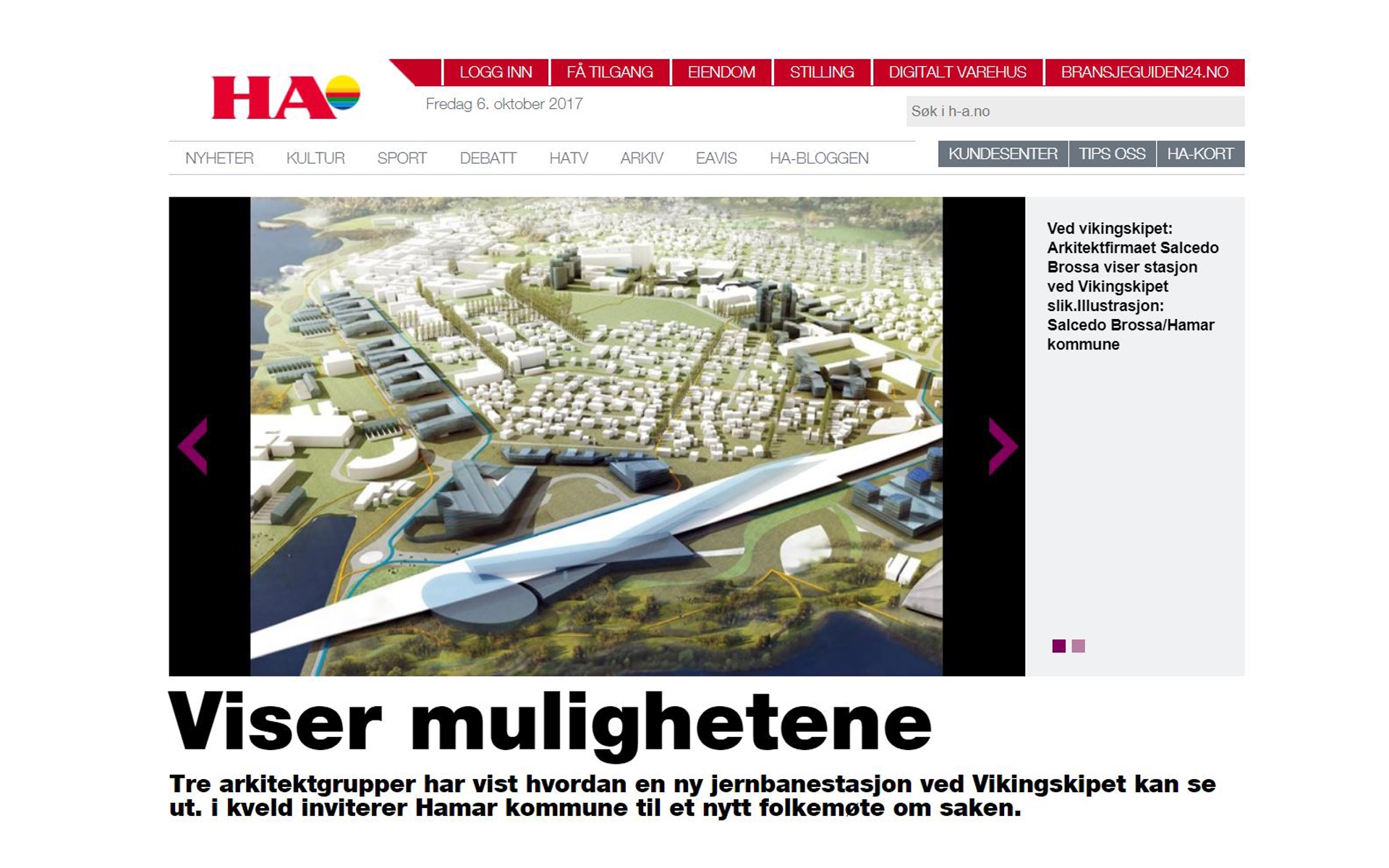 Hamar Train Station
Client Hamar Town Hall / Rorn Eiendom
Date 2014
Size n/a
Budget n/a
Collaborator MARC BROSSA
Located in Hamar, Norway
Hamar 2.0 relocates the city's existing train station to connect it with the new, national Intercity Corridor Project. The relocation of the station creates an opportunity to explore Hamar's future, its relation to the waterfront and local scales as well as to the regional and national scales.
At a local level, the new Train Station reconnects the city to the Mjøsa waterfront, creating a space to be enjoyed by all in the community that also functions as an expansive, linked ecological realm resilient to floods and harboring of ecosystems such as Åkersvika. In a broader scale, the new station acts as a planned, sustainable catalyst for Hamar's connection to the regional and national networks, smartly dealing with the growing population, diversity, economic interdependence, and the city's carbon footprint. Through increasing city density, farmlands and existing ecological systems are preserved. Through a series of overlapping loops, connectivity and development are promoted.
The 'Hamar 2.0' vision is built through a series of linked but autonomous projects that build upon each other towards a common goal, what we define as 'Incremental Urbanism'. The relative autonomy of the projects allows for their implementation in different stages whenever resources and funding become available. By designing through a series of lenses—connectivity, development, and environment—we provide Hamar with a holistic, interrelated framework for a sustainable future.
The surface track option of Hamar 2.2 would replicate this condition and in turn would not be too much better than the existing conditions in regards to connectivity with the Mjøsa. Although we understand the concern regarding the image of Hamar and the potential disruption of the town aesthetics by the incursion of the elevated tracks, we see these concerns as less significant than the opportunities and benefits than an elevated option. For these reasons, it is our belief that Hamar 2.0's elevated track option is the better choice.
SALCEDO.BROSSA STUDIO:
Marc Brossa – Principal
Julio Salcedo – Principal
TingTing Jin – Associate
Doohyun An – 3D Visualization
Marylynn Antaki
Kerstin Bauer
Josh Carrelo-Mendez
Aran Cho
Dongyeol Lee
Minsub Lee
Moonji Lee
Sujin Lee
Gayoung Lee
Miguel Lopez
Camen Rubio
Hyunmin Seo
Justin Tan
ARUP:
Cameron Thompson – Associate Principal – Sustainability / Development
Vincent Lee – Associate Principal – Green Infrastructure and Water Management
Eric Rivers – Associate – Transportation Planner
Alexan Stulc – Sustainability / Energy
Alban Bassuet – Associate Principal – Acoustics